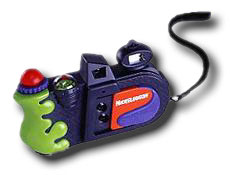 18,736 visitors since 07.17.2000
(updated 2010-08-10)
What's New
Why does this page exist?
I found out about the PhotoBlaster around May 1999. My friend brought one on a vacation trip I took with a bunch of friends, and it intrigued me immediately. I only got around to looking for one this month (June 2000), only to have a hard time finding any information about them. So I built this page as a resource and shrine for PhotoBlaster fans and enthusiasts, as well as fans of other "toy" cameras.
What is the PhotoBlaster?
The Nickelodeon PhotoBlaster (Long Hall Technologies model N6800) is a compact "kid's" camera which has the useful feature of being able to take 4 images onto a single 35mm frame of film, one shot at a time. Learn More about the history of this camera...