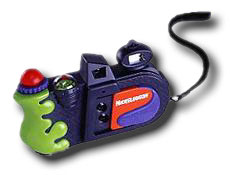 18,736 visitors since 07.17.2000
(updated 2010-08-10)
What's New
Click here for the news archive
08.13.2010 - Wow, big facelift for the site launched today! Been working on it for a few days now. Funny, this facelift has been in the works since January 2009, just getting around to it now. In any case, it's the first major change in the look of the site in over 10 years! I can't believe it's been that long. Why not? Added a contact form, new templates, more semantic HTML, etc.
Remember this old PhotoBlaster Worship Page? RIP...
Why does this page exist?
I found out about the PhotoBlaster around May 1999. My friend brought one on a vacation trip I took with a bunch of friends, and it intrigued me immediately. I only got around to looking for one this month (June 2000), only to have a hard time finding any information about them. So I built this page as a resource and shrine for PhotoBlaster fans and enthusiasts, as well as fans of other "toy" cameras.
What is the PhotoBlaster?
The Nickelodeon PhotoBlaster (Long Hall Technologies model N6800) is a compact "kid's" camera which has the useful feature of being able to take 4 images onto a single 35mm frame of film, one shot at a time. Learn More about the history of this camera...